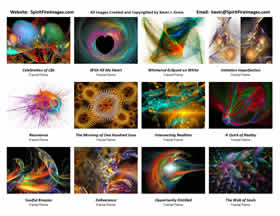 2018 Calendar Notecards
SKU:
2018_Calendar_Notecards
Do you like the images in my 2018 fractal calendar but not have much use for a wall calendar? The 13 images are also available as a set of notecards. You can enjoy them yourself, share the beauty with others or give them as a gift of beauty!
My 4.25" x 5.5" notecards are beautifully rendered color laser prints of my fractal artwork printed on thick 100 pound card stock. This set contains 13 notecards, one for each image in my 2018 fractal calendar. They include envelopes and are packaged in clear, resealable sleeves.
To view the 13 images click here.