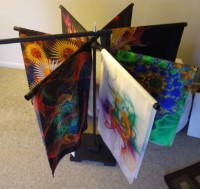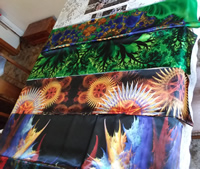 I am now having fractals printed on a satiny fabric and am making it into 54" x 18" and 72" x 27" scarves (back is white). I think the fractals look better on this satiny fabric than on anything else I've put them on before! It gives the fractals almost a metallic shimmer. Best of all they hold up to laundering! Pictures don't do them justice. You have to see them in the cloth!
The fabric is a 100% woven polyester fabric printed using ecologically-safe transfer sublimation inks that provide vibrant color and strong wash durability. It is characterized by an ultra glossy look and a hand that softens the more it's washed. To care for them, wash separately in cool or warm water using a gentle machine cycle. Machine dry using a low temperature or permanent press setting and remove promptly to avoid wrinkles. If required, use an iron with a light touch on a synthetic setting only.
Scarves marked "In Stock" on the order page will ship in 1-2 days. Scarves marked "This item can be backordered" will take about two weeks to have the fabric printed and to fabricate it into a scarf before it ships. Note: Choosing an expedited form of shipping will not change how long it takes to prepare a scarf for shipping. Also, USPS Priority Mail 2-day is not guaranteed in 2 days.
Price range : 59.99 to 59.99