Have you ever searched for art for a certain room to no avail? Maybe you found the perfect art but the colors didn't match the room? Maybe you found something with the exact colors you wanted but the art didn't excite you? Now with Personalized Fractals you can have your cake and eat it, too!
Personalized Fractals allow you to choose the colors you want to work with. I then will provide you with multiple options applying those colors to the fractal of your choice. Combine your Personalized Fractal with custom color frames and mats or have me create a canvas wrap to make a piece of artwork created just for your room!
How does it work?
Here is an example. Two of my clients had fallen in love with Spiritual Release. The fractal, pictured below, really spoke to them.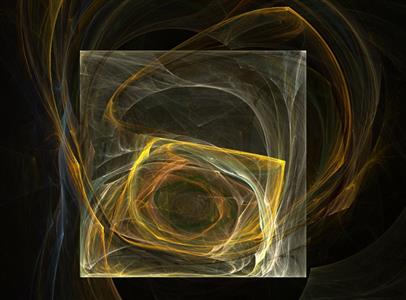 The only problem was that they wanted a fractal canvas wrap for their living room and the colors of the fractal and the living room just did not go together. They gave me some pictures of their living room to work with. It turned out that all the colors of the room were represented on the center pillow on the sofa.
With those colors in hand, I created several color palettes to use with the fractal. Using these I created a dozen or so variations of Spiritual Release for my clients to consider. After they had narrowed it down to two choices, I created simulated pictures of how those two choices would look in their living room.
My clients made a final choice and I produced their personalized version of Spiritual Release as a 5 ft x 4 ft canvas wrap. Below is a picture of the final product hanging in their living room.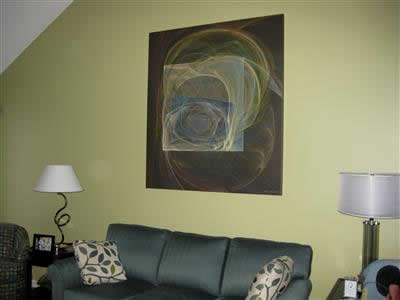 My clients were very pleased with the result! They wrote, "Once again last evening, a friend visiting in our home spontaneously commented about loving your fractal piece displayed on our great room wall. It is so alive with movement and the changes with one's vantage point are spectacular. It is simultaneously calming and exciting. We love it! Thanks again!"
How Do I Get a Personalized Fractal?
First, go to my website (SpiritFireImages.com) and explore the galleries to find a fractal you would like personalized. Then, take some pictures of the area you would like to hang the fractal. A photo from your phone is fine as long as you feel the colors in the pictures accurately represent the room. Contact me and we can get the process started. It is really quite simple.
-Kevin J. Gross